You know the first part of
Cinderella
where she wakes up and birds are singing and she's singing and the sun in shining?
That's me today.
Here's why:
First:
Today Matt and I are celebrating our three year anniversary. Three years ago we made it official, in front of 75 people. Beside a lake, under the hot (98 degrees) Texas sun, sheltered by two shade trees, our siblings standing by our sides, we got hitched. My father in law married us and I read e.e. cummings.
One thing I will say about my wedding day is that is was FUN. We danced, we laughed, we loved. It was a beautiful day and it was the start of three beautiful years together.
So far, out of this marriage was born a baby and most importantly, a singular family unit that will last forever.
Today is a happy day.
I love you so dearly Matt. Happy anniversary, babe.
Second reason today is so awesome:
I am guest posting over at
My World Made By Hand
. Jess is a genius in my book and she let little old me post a craft over on her blog. It's an honor, it's a privilege and I would LOVE it if you would go on over there and comment the heck out of it. Consider it your anniversary gift to me.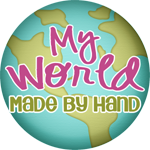 I hope your day is just as lovely as mine.