Do you ever squeal in delight when you see a certain someone has posted and it comes up in your reader? For today's Friday Favorites installment, I thought I would share the blogs that cause me to squeal with delight each time I see them pop up in my dashboard.
You'll enjoy reading about Ginger's crafts, her sweet little boy and her quest to earn merit badges. Plus, her name is Gin like me so you know she's bound to be cool. Plus, she makes light of messing up on crafts, which is something I do a lot.
You have to read Sharde's blog for style inspiration. Remember my spray painted shoes? They were inspired by her. She can turn a white t-shirt into a sophisticated article of clothing and can teach you how to rock a skinny belt. Follow her and see if you can beat me as #1 commenter (I dare you!).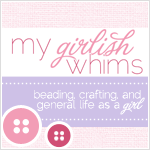 I recently found Rebecca's blog and I have to say that she is my newest blog crush. What girl can't relate to that blog title? She's girly, funny and honest. Plus, she shares amazing crafts.
Eve from Beautiful Spit Up is likely to be my sister from another mister. Our boys are five days apart, we're both bilingual, both our husbands are amazing and we both bring the awesome. Only difference? Eve is an amazing cook and shares with you her tasty treats.
Veronica is the voice behind this farming and ranching blog and I have to say, I love when she posts. Her photography is amazing and she shares ranching life in a way that everyone can relate to. Plus, it always brings me back to my own days of living on a ranch.
Truth is, I love reading blogs so much that there's a lot of squealing going on when I finally sit down to read. Check these amazing ladies out, would ya? Tell 'em gin sent ya.
Do you squeal when a certain someone posts? Let me know. Comment and tell me your favorite blogs so I can check 'em out.