Slowly but surely, Matt and I have been revamping our guest room. From the beginning, we wanted the room to reflect the Mexican culture, as we want our guests to have the most authentic visit here as possible.
I had a vision about how I wanted to redo our dresser for that room and I think it came out exactly as planned. I don't have a before picture, but if you imagine a dresser the color of poo, with hardware hanging on by a thread and older than Methuselah, then you'll have a pretty good image of what the dresser looked like. We also completed this project before I constantly had the thought, "I could blog this."
However, we breathed new life into her and here's what she looks like now:
We painted her white, tiled the top in Talavera tile and installed ceramic hardware from World Market.

I have to give major props to Matt on this project; essentially, I just told him what I wanted and he did it. I did paint the dresser and put the hardware in, but he did the hard part of tiling the top.
We used blue, yellow and white 2 inch tiles and for the design in the middle we used a floral four inch tile.
Pretty, right?
Here is what she looks like with our bright southwestern mosaic canvas we picked out:
What do you think?
Linking here: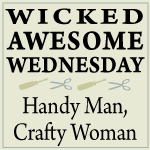 and here