My wife (or should I say Wifely) loves a good puree and creates many every weekend. It all started when Jessica Seinfeld made her way in to our life.
I have
ALWAYS
NEVER been a fan of fruits and veggies. It is really a psychosomatic complex built up over a long period of time from not having eaten these items. I suppose I could make this my Awkward and Awesome for the week.
Awkward
: When I bite into an apple or any fruit & veggie with a tight, thin skin that has that snap or that juicy crunch (like a sausage or an ant) it feels like I am and I imagine I am biting into the head of a fish. So much so, that I see the eye and envision biting into or around it. I am then royally
turned off
by the food.
Awesome
: Puree has helped me slowly acquire the tastes that I now enjoy in my food causing me to have branched out to small cut peppers, onions, to longer and larger strips of veggies with no psychosomatic recourse. In fact, I now eat all sorts of fruits and veggies in solid form. Something to think about if you cannot eat them yourself or your child cannot. Thankfully my wife and now I eat enough fruit that Toph loves the natural, healthy foods already with no protest.
If you're like my family, you love pizza and fajitas. And if you're like my family, you have no food in the house, or ingredients that are worth cooking together by the end of the week. We got lucky last Friday and had just enough to put together. Gin was worn from teaching, mothering and all else she does, so I thought I'd take over the kitchen to cook her a good meal. We had pizza dough but no pizza sauce or pizza toppings. We had chicken, but were bored with this as a meal alone. We also had Rotel and purees galore in the freezer, but nothing left to put them in.
My solution:
Fajita Pizza
You need:
5 tbsp salsa
2 pureed red pepper
2 pureed green pepper
1 thin crust pizza dough (we use the premade kind)
½ finely chopped onion
8oz can rotel (or any brand of diced tomatos and green chilis)
large can of green chilis
1/2lb of boneless breast chicken
2 ½ cups of grated Colby Jack cheese (more or less as per your liking)
extra virgin olive oil (use at your discretion)
1 packet Taco Seasoning
Directions:
1. Preheat the oven to 400. While waiting, grease your pizza pan (if you have a traditional pizza pan with aerated holing your pizza crust will cook more evenly and crust better).
2. On the pan, evenly sprinkle as much taco seasoning you feel is best. For my family it is a light dust, around 1/8th of the seasoning package. Lay your crust on top of the seasoning. (Note: as the dough bakes the seasoning will rise in to it.)
3. When the oven is ready, cook just the crust until it is a firm golden brown. This is important because the sauce and veggies will cause a nice crust to become soggy as it cooks. I like to cook mine for around 7 minutes, but experiment over time for your preferred crust consistency.
4. When you agree with the crust pull it out and begin the real cooking. Put a tbsp of salsa on the crust where you would find the divots on a number 5 domino, or poker card. Spread the spotted salsa to cover more of the empty crust.

5. Take the pureed green pepper and randomly toss it onto the crust, similar to that of a
Pollock
painting. If you have taco sauce, toss some of that on too!
6. While the crust is cooking and during the saucing process you will also cook the chicken. For best results have a pan on the oven set at 6-7 (slightly higher than medium heat). Coat your pan with evoo.
7. Pour the can of rotel, the pureed red pepper, diced onion and green chili into the simmering pan. Have your chicken cut to thumb sized cutlets and toss them in the simmer.
8. When your chicken is cooked, it's ready to go on the pizza (rotel, puree and all):
9. Now, sprinkle your cheese on.
10. Bake for about 6 minutes until the cheese is melted.
And Voila! Enjoy!
Let Gin know how it went if you make this!
**********************************************************************************
I'm so proud of Matt and his cooking skills that I'm linking him up here: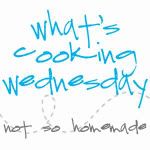 and
WFMW