I remember the days before being a mama, where I could leisurely stroll through stores looking for just the right shoe or when I could leisurely surf the net in search of shoes. During those days, I didn't need
Shoe Dazzle
.
Now that I am a mama, my time is occupied with the raising of a child; thereby shoe browsing and surfing has gone out the window. This is really okay with me, as my feet are still feeling the love thanks to a sweet little website
called Shoe Dazzle.
What is
Shoe Dazzle
?
It is a revolutionary little shoe website that puts you in touch with shoes that fit your style without the hassle of constant perusing. When you first sign up, you take a style quiz so the Shoe Dazzle stylists can get an idea of your style. Then, they show you shoes based on your style and the choices change every month. If you are not happy with your shoe selections (which has happened to me before...sometimes I wonder what those stylists are thinking), you simply request alternate shoe styles and they'll send you some right over. Every pair of shoes is $39.95 and the price includes shipping.
Kim Kardashian
was part of its founding team and is the face of its advertisements. Shoe Dazzle also sells bags and jewelry, but I can't comment on those because I've never bought them...I'm in it for the shoes...oh, the shoes.
I have been a member of Shoe Dazzle for about a year and have loved every pair of shoes I've ordered. (With the exception of one, but I'll get to that later.)
Here are the beauties I've ordered so far: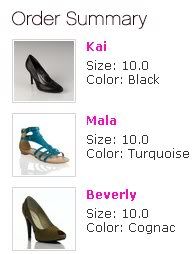 These are the first beauties I ever ordered; while I love the stilettos, those electric blue gladiator sandals have a special place in my heart.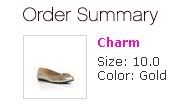 I wear these gold flats so much; I'm a firm believer that metallic shoes can go with anything. They're comfy too, which makes it nice for work.
These animal print heels are great because they're not too high and they go with so many of my outfits. Plus, what the photo doesn't show is that the back of the heel laces up.
These are the latest purchase I made. I love the metallic flats. Remember how I mentioned there was one pair of shoes I ordered that I wasn't completely happy with? They are the boots, Ciudad (pop quiz: what does that mean in Spanish?) and in all honesty, I didn't think the quality was well aligned with the price (read: cheap quality for expensive price).
Usually, online stores make is so difficult to return or exchange something. Shoe Dazzle makes it so easy to exchange or return. They ship every shoe to you with a prepaid return slip, so that you can return any shoe you are unsatisfied with at no extra cost (I get that it's built into the price, but the convenience of it is nice).
With every pair of shoes you get, it comes in a pretty pink and purple box and a little carry along bag in case you need to take your shoes traveling with you.
Let's say you don't have the money each month for shoes (happens to me every now and again). You just click the "Skip this Month" button at the bottom of the page. You can still look at the pretty shoes and order at any time, but they won't take out the $39.95 from your bank account.
I have skipped the last few months, due to the fact that I simply don't need new shoes, but I ALWAYS need to look. So, I've been squirreling shoes away in my cart (which they never empty).
Here's what you may see on my feet in the near future:

Shoe Dazzle is free to join; if you're interested in seeing what style of shoe the Shoe Dazzle stylists would select for you, go ahead and sign up. You're not obligated to buy any shoes but it's so fun to look!
And yes, now you know I wear a size 10 shoe. I have Peggy Hill feet.
Have you tried Shoe Dazzle? I would love to hear from you!